Master class Painting Your Dream is a unique opportunity to work with the subconscious using color and composition in order to find out one's intentions and goals in life, and realize them. The Master class helps to look inside yourself, express your thoughts and feelings through creativity. This is like a snapshot of your own Self. It's like coming face to face with yourself and helping yourself, discovering your creative potential, and changing with ease your present-day reality.
I realize that now the time for artist is absolutely different from what it was before, and artist needs to be unique and create unique art product. I studied Indian philosophy and meanings of symbols in India for 7 years; as well as classical art at the Repin Academy of Fine Arts, St. Petersburg, Russia, for 7 years before that.
For the past several years, one of my projects has been Painting Your Dream. Using my knowledge of philosophy and symbols and my vast experience as a painter, I help people fulfill their dreams and intentions. The majority of my clients have seen their dreams come true after we worked on their pictures of dream.
According to many of the world's prominent philosophical systems, the Indian one being the first and foremost, there are several bodies – levels of existence. There is a material, physical body that has its own tastes feelings, sensations, and nervous system, as well as there is a subtle body that interpenetrates the physical one and has its own tastes, feelings, sensations, and nervous system different from the physical one. There is also a third level of subtle body with its own attributes that differ from the other two. The students explore the interaction and interconnection of the subtle bodies with the material one.
The basics of visual arts are akin to those, on which psychology and process of harmonization of personality are based. Thus, the Master Class becomes a powerful instrument of self-cognizance, self-awareness, and personal growth. It's an amazing journey to one-self. We leave our dreams, intentions, and hopes on a piece of paper using paints. We add colors and forms enjoying creative freedom.
The Master Class begins with a meditation that releases our anxieties, and opens up our creative potential. This also allows us to concentrate and discover our strongest intention, the dream we want to come true. Then, under my guidance, the students begin to put their discoveries on paper or canvas. As the work progresses, I correct, suggest, and explain the basics of use of color, composition, and structure, as well as the major elements of art of painting.
After 3-4 hours of each class each student comes home with a draft picture of her/his dream, until, finally, in the end of the seminar, which can take up to 5 classes, students have their own Picture of Dream. And the interaction with one's own dream begins. Every day, a person interacts with the dream that has been incarnated in his/her own picture. The daily interaction with it, being surrounded by the physical incarnation of one's own dream makes it come true. The majority of my students see their dreams come true within half a year. I have a lot of testimonials to the subject.
This Master class is for everyone, no matter if it's a professional artist or the one who took up brushes for the first time. You will rediscover yourself and get a unique experience of communicating with yourself. During the Master class we will find our major intentions and problems, and will begin to solve them with the ease of an artist-improviser that lives in each of us. We paint harmony, and it stays with us. We recall a child-discoverer in ourselves.
I believe in my destiny and spiritual energy, and I believe that we can be working together with you and be those God's hands that help many people fulfill their dreams.
Love & joy!
Ekaterina Abramova
Ekaterina Abramova is an international artist, specializing in painting and graphic arts in mixed as well as traditional techniques using oil, acrylic, water-color, markers.
Her paintings have been exhibited to the wide acclaim all over the world, most notably in India, China, Russia, Germany, Switzerland, Sweden, France, Italy, Belgium, and USA; including the most recent ArtExpo New York 2015. Born in 1979 in Moscow, she graduated from an art school with honors, and continued her studies at Vasnetsov College of Fine Arts, Moscow. In 2007 she received her MFA Cum Laude from the Repin State Academy of Fine Arts, St. Petersburg, Russia. Among of her numerous Awards are: Gold Medal "250th anniversary of the Russian Academy of Arts," Gold Medal "National Endowment for the Arts" of the International Charity Fund "Philanthropists of the Century", citation from the Russian Academy of Fine Arts for the participation in the exhibition dedicated to the 250th anniversary of the Academy. She was nominated for the State Presidential Scholarship in the Arts. She is a member of the Union of Russian Artists, Art Fund International, Creative Union of Professional Artists, Art Indulge Foundation.
In 2014, she was awarded the international artists' residency in Hyderabad, India, organized by the State Fine Art Gallery and Kalanirvana Foundation, to represent Russia among 20 other artists from all over the world, as well as in Goa Chitra Museum, Goa, India.
Among her most recent exhibitions are: Art Cocktail Exhibition at D.E.V.E. Gallery, Bruges, Belgium, 2013; Exhibition Artistry at Artery Fine Art Gallery, Chicago, USA, 2014; Exhibition ArtExpo New York, New York City, USA, 2014; Exhibition On The Right Way, Central Artist's House, Moscow, 2014; Woman's Academy, Moscow, 2014; Exhibition Art Through Light II at the State Gallery of Fine Art, Hyderabad, India, September 2014; Exhibition Innovation of Color, Westside Park Art Gallery, New York City, USA, October 2014; Exhibition Golden Age, Russian Cultural Centre, Berlin, Germany, November 2014; Art India Festival, Mumbai, India, November 2014; as well as the upcoming Kolkata Art Biennale, Kolkata, India, April 2015, Exhibition ArtExpo New York, New York City, USA, 2015.
She has had numerous personal exhibitions of her art all over Europe, USA, and India.
Her works are in private collections in UK, France, Germany, Russia, Belgium, Finland, Italy, Switzerland, China, India, and USA.
Testimonial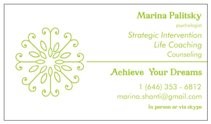 I know Katya (Ekaterina Abramova) for many years and have long been an admirer of her work and her personality.
Her art always made me feel as if I was receiving a call from another dimension. It refers to higher realms of being, inviting to realize the inner depth of my soul and integrate it with my entire existence, with my higher Self.
When I found out that she was offering her workshop "Painting Your Dream," I knew I had to take it, that I couldn't miss that chance.
It was magic. Feeling the colors, using my emotions and sensations to choose the line and shape of what later was supposed to be my painting. Then – seeing an image appear under my hands, and getting stronger. Sharpening my skill, learning to use different brushes and my fingers, mixing colors to get what feels right, learning, learning, learning… but learning on a different level. Something, that has always been in me, got a chance to finally express itself. It was amazing to see the result, amazing to realize what I was capable of.
Painting in a group was also an incredible experience. After short, guided meditation Katya created such an atmosphere of light, support and creativity that between us, participants, there was never even a trace of competitiveness, and it was really easy to accept Katya's teachings and some corrections. On the other hand, everyone in a group somehow played a role in everyone's experience. That was lots of fun.
It was as if she had tuned us in to her own wave of creativity, which allowed our own one to spring out.
I feel grateful and fulfilled.
And I saw the face of my dream.
Marina Palitsky