Ekaterina Abramova is an interesting and original artist. Her paintings are a unique synthesis of plastic ideas of Russian icon and Kazimir Malevich's suprematism system… One must note that Ekaterina is a true master, an artist of high professionalism and Academic training — she graduated from St.-Petersburg Academy of Art (the class of such a master as Eduard Kochergin). E. Kochergin, by the way, is a world famous scenic designer. That is why, one may think, besides everything else, there is always resounding presence of theatricality in Ekaterina's paintings. And that is why Ekaterina presents many of her themes as grandiose mystery plays, where human being exists on a par with nature, the universe…

I am sure: Ekaterina Abramova is an amazing artist who found her own inimitable style, and most importantly — her own imagery system. Her works deserve very close attention.

I have no doubt: soon we will see her new discoveries and achievements. Ekaterina's talent is at its very peak!
Ph.D. in Art History, a Full Member (Academician) of Russian Academy of Arts,
is the world's leading expert on the Russian Avant-Garde of the 20th century. He is Researcher in Chief of the State Institute of Art Research; and Head of the Department of Russian Art of the 20th century at the Institute of Theory and History of Fine Arts of Russian Academy of Arts. Mr. Kovalenko has been one of the art curators of the seminal exhibition "Amazons of the Avant-Garde" at the Solomon R. Guggenheim Museum in New York City, Berlin, Germany, and Bilbao, Spain, and a major contributor to the exhibition's catalogue. He is author of numerous essays, books and monographs on Russian artists of the 20th century and the 20th century Avant-Garde. He is a recipient Gold Medal of Russian Academy of Arts.
ABOUT EKATERINA ABRAMOVA'S PAINTING
 by Georgiy Kovalenko
---
For 35 years the New York Art Expo has continued to bring together gallery owners and art industry enthusiasts searching for new artists.  The Еxpo has earned the reputation of being the largest fine art marketplace in the world and is the choice venue for artists who want to meet like minded individuals and expose their work to the general art industry. The New York Art Expo features original artwork including paintings, lithographs, glass art, mixed media, drawings, sculpture, innovative photography, ceramics, and giclées. This all inclusive exposition attracts architects, framers, interiors designers and art buyers looking for new ways to display artwork. The experience is stimulating for all art lovers and collectors . The following is a list of some of the outstanding participating artists: … Ekaterina Abramova is a 21st century post-expressionist and creates spiritual ornamental paintings drawn on symbolic folk art of various peoples, most notably on Russian and Indian mythology.
---
Artists experiment and study diverse shapes changing styles and perspectives. Ekaterina Abramova, Russian artist living in Goa, expresses the evolutions in two separate series with one related to India and another one originating from Russian icon painting art. Elements of emotion are reflected in figurative and abstract styles. Featuring their own intellectualized system of symbols, they turn into a pure type of personal vocabulary reflecting an utterly different art concept. They [Ekaterina's icons] are an alliance between the figurate and abstract, echo of Russian painter Vasiliy Kandinsky (1866-1944)… Kandinsky's modernism originated from spirit, rather than scientific attitude… Ekaterina Abramova's abstract paintings may be classic or modern with the routine transforming at once… Presenting the real in its direct depiction of life and nature and in its more symbolic state Ekaterina balances the oscillating paradigms of fine art.
Elizabeth Rogers, Russian Gallery XXI, 5/2012
Graduate of Harvard University (B.A.), Institut d'Etudes Politiques (C.E.P.), and Institut des Civilisations et Langues Orientales (matrise, Paris), Beijing and Fudan Universities (P.R.C.), and Yale University (M.A. and M.F.A.), art historian (East Asian art), curator, poet and writer, Elizabeth Rogers has curated exhibitions of Asian art in museums such as the Metropolitan Museum (New York), the Musee Guimet (Paris), the Musees Royaux (Brussels), the Groningen Museum (Netherlands), the Ashmolean Museum (Oxford), the Sackler Museums (Harvard and Beijing), the Japan Society and the Asia Society, the Hermitage Museum (St. Petersburg), the Indian Museum (Kolkata), and the Gotoh and Suntory Museums (Japan). She was the Assistant Director of the Museum at Japan Society (New York), the Director of the Jacques Marchais Museum of Tibetan Art (New York), and a consultant to the Museum at Tibet House (New Delhi).
Beyond the Iconic
by Elizabeth Rogers
---
It is true that every thought can be displayed in the form of a picture. And such thought provoking pictures transcend all barriers of creativity. Ekaterina Abramova, a Russian 'modern style' artist, displayed her paintings in an exhibition called 'Blissful' at Ishanya Mall recently in the city. Her paintings were a vibrant blend of different themes and mediums, pleasing to the eye of each one who stopped by to admire the works.
The Indian Touch by Sumeet Shribad, The Indian Express, Pune, India
The Indian Touch
by Sumeet Shribad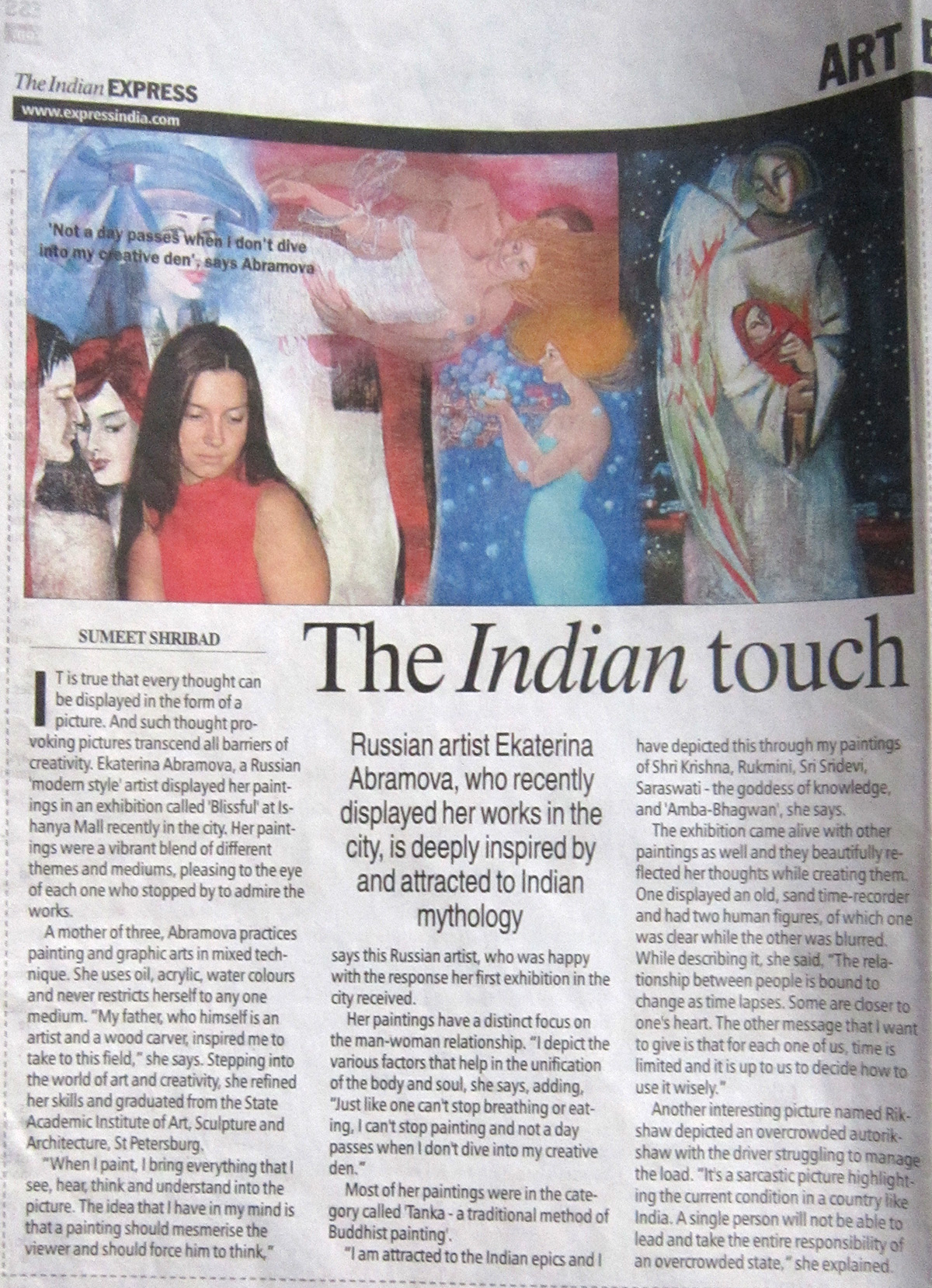 ---
Small wonder then that this picture series has become more highly valued than Abramova's other works, including in financial terms…. The pictures on show are all united by the rather unorthodox idea of marrying classical Russian icon painting with Indian cosmology art. In them, the faces of Christian saints look bizarrely Indian. And there are human-headed sacred birds, angels from Russian icons, soaring over the effigies of Indian women living in Goa. The integration is complete, especially in the abstract pictures, where the two cultural traditions are merely outlined instead of being represented in all their details. The result is an unusual, Indo-Russian gallery of cosmological messages expressed through the medium of paint."
Dmitry Kosyrev, RIA Novosti, Calendar, Moscow, October-December 2012
Anahata With A Russian Heart
by Dmitry Kosyrev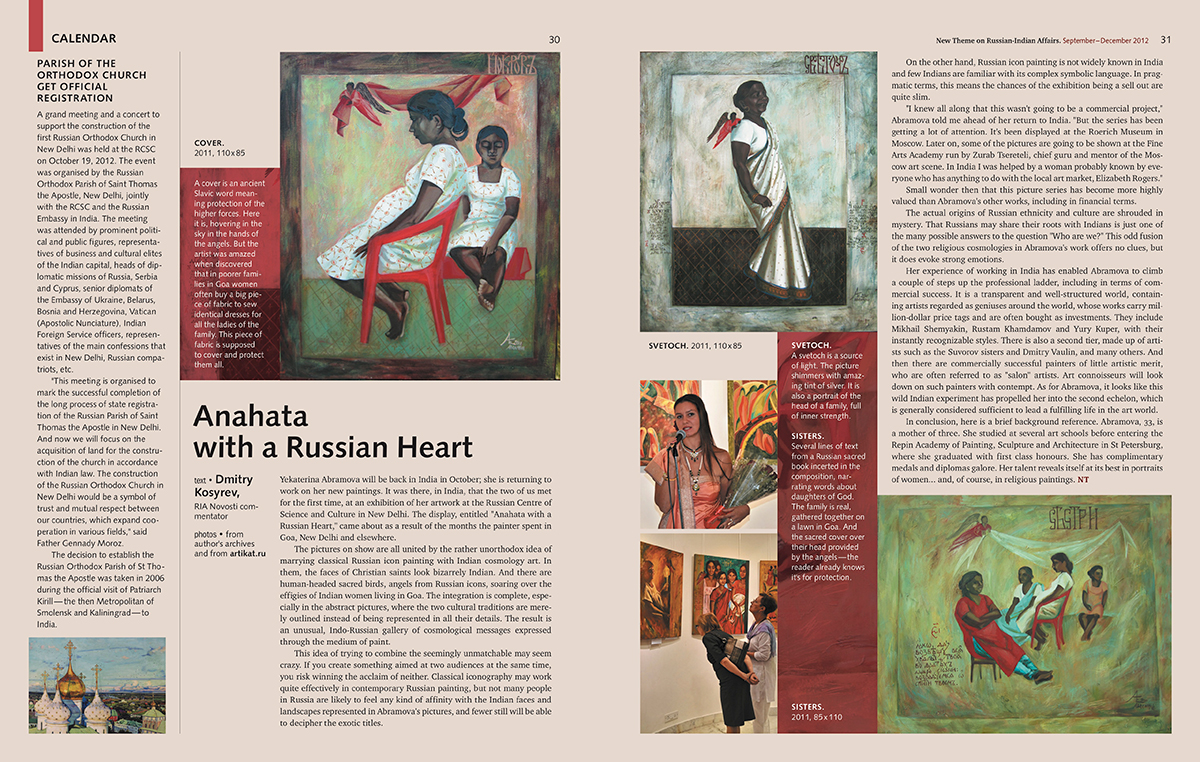 ---
"My paintings always symbolize love — friendship, relationships, god, motherhood, — it's all love. The last three days have been wonderful; everybody is from different worlds but we all speak the same language. I've lived in Goa for seven years. I came to India for the first time 15 years ago; and the first step I took from the Delhi airport, — it felt like homecoming, my life changed for ever. The food here is delicious, people are so good, and life is simple and beautiful," says a residency artist Ekaterina Abramova.
Ambassadors Of Art, The Hindu, Hyderabad, India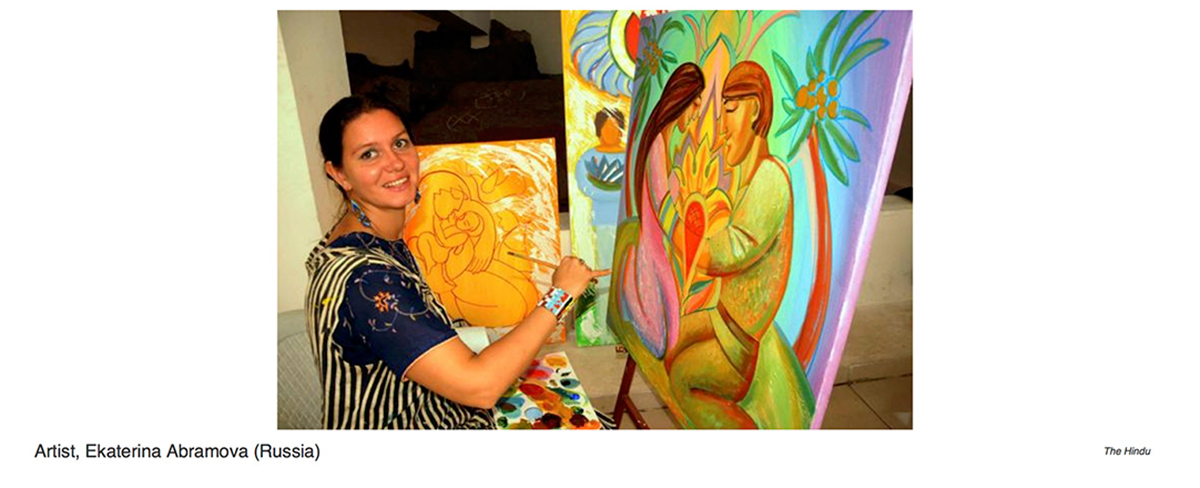 ---
On International Women's Day, Goa Chitra opened its Dom Martin Art Gallery with an inaugural exhibition of paintings by the women artists who participated in Goa Chitra's International Art Residency. The Gallery was inaugurated at the hands of Governor Bharat Vir Wanchoo.
NT Buzz, Navind Times, Panaji, Goa, India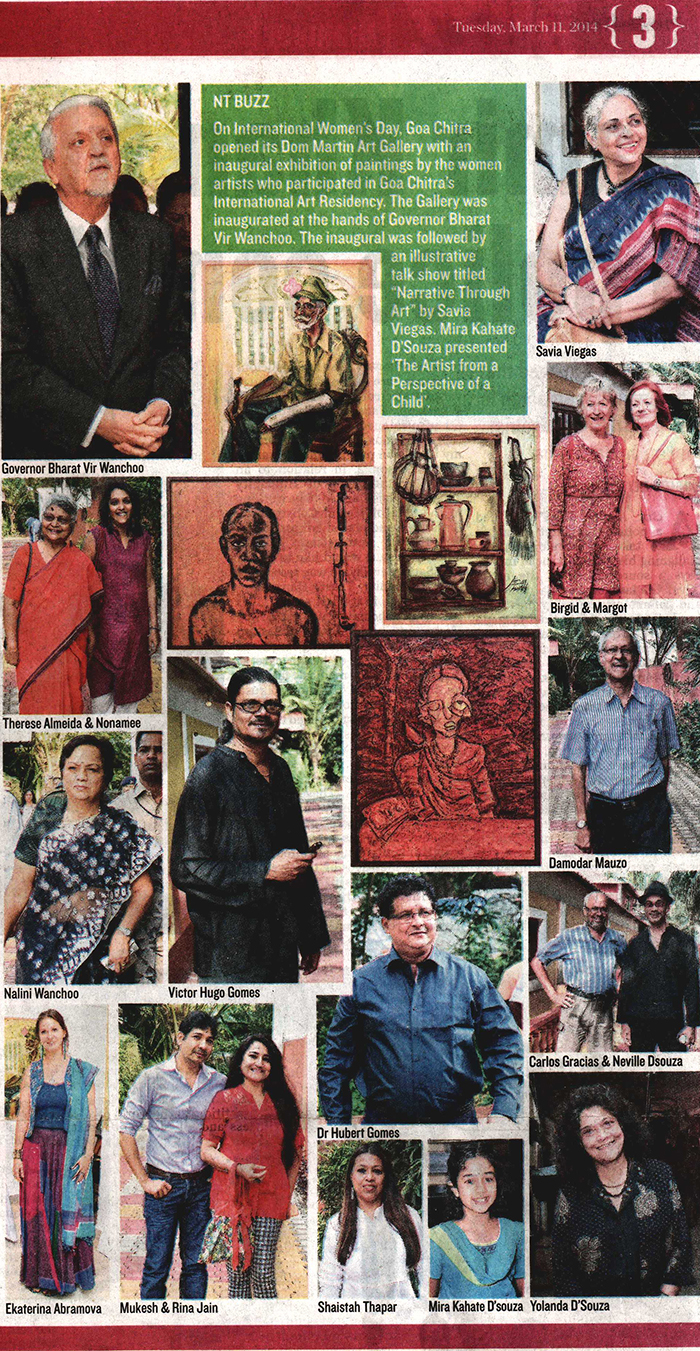 ---
India On Her Canvas
The Hindustan Times, New Delhi, India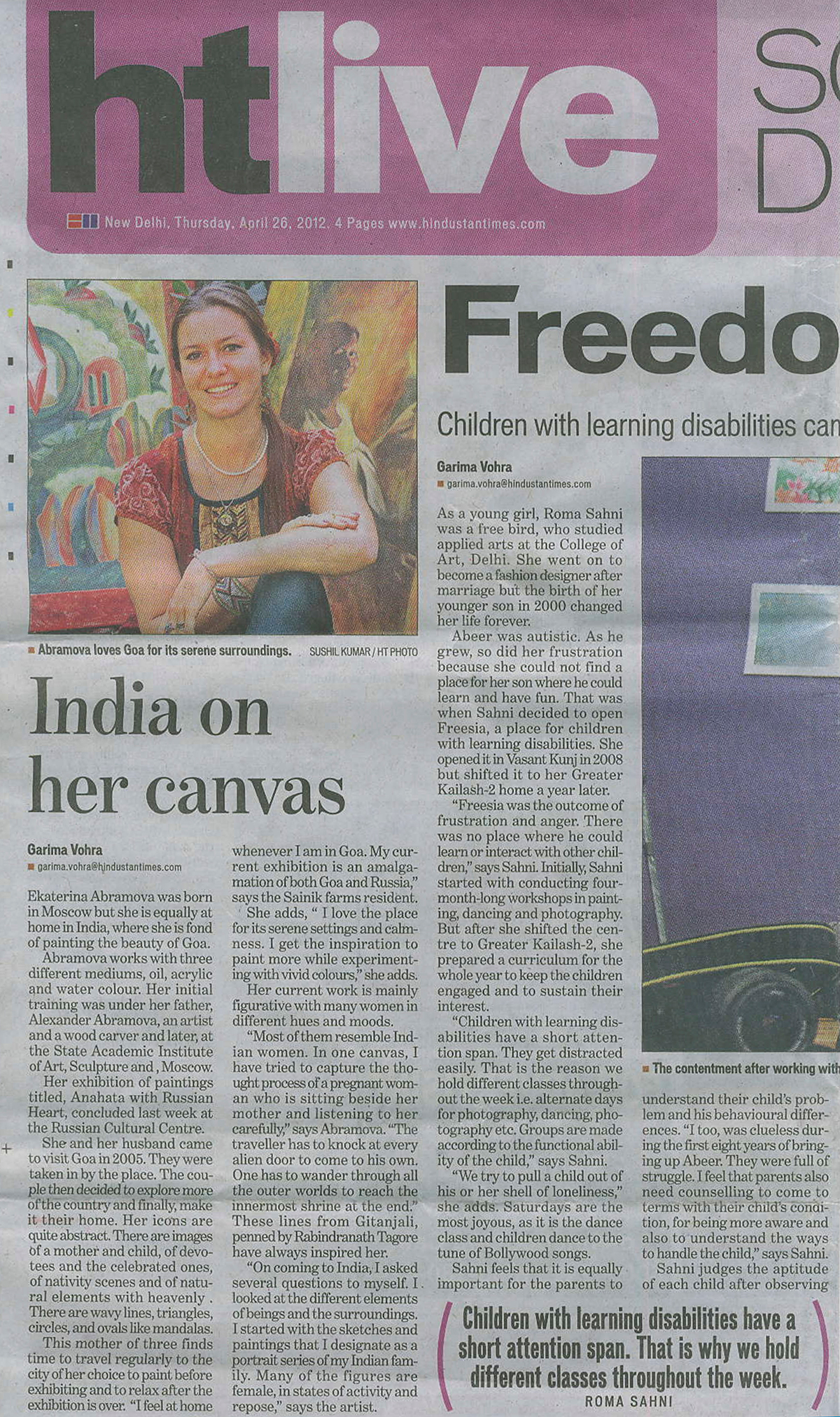 ---
"The Art Indulge foundation, India, in a joint venture with Liber Arte foundation, Hungary, has selected 4 upcoming artists from Goa to participate in 'Creative Journey' a ten day learning art camp to be held at Fonyod, Hungary, from Aug 7, 2012 to Aug 16, 2012. Aadhi Vishal, Raj Bhandare, Rajesh Salgaonkar, and Hitesh Pankar have been selected by the Art Indulge foundation from Goa while Anita Tiwary, Delhi; Sonal Raje, Canada; and Ekaterina Abramova, Russia; have been invited for the camp. The selection was made on the basis of their personal profiles, art works, and future potential in art. The 'Creative Journey' will focus not only on learning of art skills but also on personal growth through multi cultural interaction. The Liber Arte, Director, Eva Pongracz, will provide support as local hosts and manage the publicity and art show in Fonyod".
Herald, Goa, India